Engineering can be a rewarding job with a lucrative salary but landing that first role can be difficult, with recruiters constantly on the lookout for experienced candidates with a proven track record. However, there are a number of steps a person can take to make them a more attractive proposition to employers.
It's a tired, old cliche but everyone has to start somewhere.
Tips to land a job in engineering
Without a doubt the most important thing an employer will be looking for is someone who has completed a work placement or gained relevant work experience.
It is a common preconception that people who have graduated from college or university lack practical experience and are too reliant on theoretical knowledge, meaning they require a prolonged learning curve.
The opportunity to apply this knowledge to practical, working scenarios can give candidates an all important edge when putting themselves forward for a job against other people looking to make their first steps on the ladder.
It is worth noting that work placements in the engineering sector will be in high demand and applications should be submitted early, students are advised to start this process in their second year.
Another option is to apply for summer internships or short-term work experience by sending a cover letter and CV to a number of companies in the hope that one offers such opportunities, who knows, you may make enough of an impression to be offered a permanent position.
Unfortunately, many of these positions will be unpaid but in the long run, offering your services for free to gain practical knowledge will stand a candidate in good stead when applying for that first job.
Any cover letters and CVs should be tailored for that specific company, generic applications usually struggle to make a lasting impression and fail to show that the candidate has completed the required research.
Desirable skills and qualifications
Engineers must possess outstanding technical and analytical ability, allowing them to identify issues & flaws and the ability to rectify them. The specific skills required will depend on the role and sector and any degrees or qualifications achieved should ideally be closely related to the role.
Candidates should be organised and have the ability to plan and prioritise their work, project management is essential to guarantee work is completed quickly and to a high standard. It would be beneficial to familiarise yourself with methodologies used within the industry such as PRINCE2 (Link – https://www.prince2.com/uk).
Communication is key as engineering projects can suffer unnecessary delays and problems if everyone isn't on the same wavelength. Both verbal and written communication skills should be to a high standard to help convey complicated and technical details of a project. Some engineers may also be required to write in-depth tender documents.
Engineering firms also require their employees to be computer literate to enable them to conduct their own research. In an ever-changing industry which sees numerous changes in regards to technology and practices, it is vital that engineers continuously grow their knowledge base.
Options with a university degree
Two key factors in landing a graduate engineering job are achieving the best grade possible and applying for jobs early. Competitiveness will be high and employers are less likely to offer an interview to a person who has achieved a grade below a 2:1.
Students should make use of the careers advisor at the university to discover what options are open to them, allowing them to submit early applications to employers and be ahead of the crowd.
Some universities may also establish partnerships with a number of companies which provide internships. It is advantageous to be aware of these early as some positions may be allocated on a first come, first serve basis.
Options for someone who doesn't have a degree
It is possible to enter the engineering industry without a university degree but this can be more of a challenge, especially if you are considering a career change later in life.
Apprenticeships offer school leavers a way into the industry, while some firms may also employ college leavers who have achieved good grades in their A-levels or a relevant B-TEC.
Consider small companies as well as the large firms and make recruiters aware of the relatable skills you have learned in other jobs. It is important to show that you are passionate about the role and have a genuine interest in engineering.
For more information in regards to a career in the engineering industry you can browse more of our articles here.
See the latest engineer jobs from Simply Engineering Jobs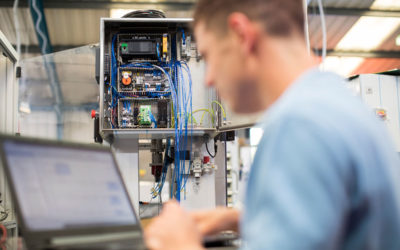 As an electronic or electrical engineer, you'll be involved with designing, developing and maintaining electrical control systems. This might include designing, developing and maintaining communications systems, power generators, motors and navigation systems for the...